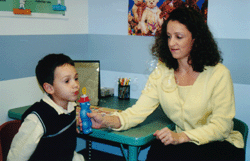 Speech Therapy should be both fun and beneficial to the children and their parents
About Gresham Speech Therapy
Gresham Speech Therapy was established in 1998 by Jill G. Russell. The office of Gresham Speech Therapy is located in a quiet suburban community within Gresham, Oregon.
Jill G. Russell specializes in the evaluation and treatment of speech and language disorders in children and young adults. Her emphasis is on oral-motor therapy, orofacial myofunctional disorders (tongue thrust), phonological disorders, dyspraxia/apraxia, and childhood language delays.
For more information, please refer to the informational Gresham Speech Therapy Brochure, the Stopping Thumbsucking Brochure, and please contact us if you have any additional questions.